| | |
| --- | --- |
| - Embroidered White Ribbons On Rolls 1 3/8" | BuyNow |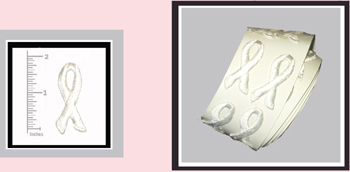 *Please note this is a new medium size ribbon.

Show your support for Adoption, Bone Cancer, Child Exploitation/Sexual Abuse, Hope and Support, Marriage Equality, Men Working to End Men's Violence Against Women, Online Sexual Predator, Postpartum Depression, Remembrance, Retinoblastoma, Right to Life, Scoliosis or Stalking Awareness & Education by using this unique reusable White Embroidered Ribbon. Peel and stick on clothing, phones, plastic name badges, date books, etc. – anywhere an attractive reminder is appropriate.

Our White Embroidered Ribbons have a self-adhesive backing so they can be worn on clothing. They are available in 1 3/8" and come in rolls of 100.

*Please note that this new medium size ribbon is replacing our large 1 3/4" ribbon. Please contact us to custom order the large ribbons.


| | |
| --- | --- |
| Ribbon Quantity | Price - (100 per Roll) |
| 100-999 | $0.25/ribbon or $25.00/roll |
| 1000-4999 | $0.23/ribbon or $23.00/roll |
| 5000+ | $0.20/ribbon or $20.00/roll |